So as to not surprise you, the Snapshot service level has been renamed to "Team" and includes sales force automation tools that allow a sales manager or marketing department to Send As other users on their account, assign Swift page Call Lists to their users and view account level reporting. Learn more about Team
For our ACT! users, the Snapshot tab—originally available only to our highest service level—is now available to all service levels at no extra charge. Learn more about the Snapshot tab in ACT!.
---

Located in the Ten Mile - Mosquito Range, Mount Sherman is one of Colorado's fifty four
+
14,000 foot peaks and was recently "bagged" by members of the Swiftpage emarketing team.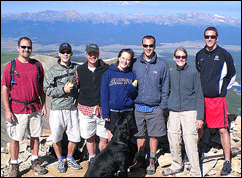 Starting bright and early in late July, we made the trek in a little under three hours. It was a literal breath of fresh air to get out of the office and take in the beautiful country we all take for granted only an hour or so from our homes in Denver. See the rest of the photo set here
Welcome to the Swiftpage emarketing Thoughtspot! The Thoughtspot is our monthly newsletter that we have constructed for you, our valued email marketing and sales crew. These newsletters will be your strategic and informative debriefing on: Swiftpage emarketing breaking news, what's buzzing in the industry, what it's like at the summit, and our feature Thoughtspot article of the month.
The Love-Hate Relationship
of Sales & Marketing
You truly can't have one without the other. Marketing campaigns, materials, resources, and efforts are essentially all built to drive sales and maintain a strong and healthy brand image. The sales team essentially determines if marketing is doing so effectively and if the appropriate amount was spent and ideally paid for through generated sales.
Unfortunately it is not this simple as human error, emotion, and competition come into play. If your marketing efforts were poorly targeted and executed, sales could suffer and the marketing team loses footing for their next pitch on budgeting. Sales and marketing is a give and take relationship that egos need to steer clear of. Questions need to be asked, realistic objectives need to be set, and all options need to be explored until something clicks, works, and fits for a healthy combo. And then you have to do it all over again as marketplace changes take affect. The end goal really is your classic set up and knock down team work. Marketing does the propping with... Click here for the rest of the article