An Interview with Brian Wilkins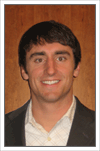 Favorite Hobbies: Skiing and Backpacking.
Ever Broken Bones? Just my nose; a few times if you can't tell from the picture.
Biggest Aspiration: I want to race rally cars some day.
Where you would live if you could live anywhere: BCS, Mexico
Something you can't say no to: Chocolate Chip Cookies... tastes like heaven.