Swiftpage emarketing News

From all of us at Swiftpage emarketing , we want to take this time to wish you Happy Holidays. We thank you for your service and all the valuable feedback you have given us to help improve your experience. We look forward to working with you through 2010.

For those of you who have signed up for the Advanced Editor Beta, we would appreciate your feedback in this short 11 question survey>>

For those that would like to participate in the Beta, click here to sign up >>
---
What's Buzzing
In Search of Customer Intimacy - via Seth Godin
Engaged, Unengaged Email Recipients - via B2B
Swiftpage emarketing Thought Leader - Download the Last Two Interviews
Article: What 2009 Has Brought Us and What 2010 Will Bring
We started out 2009 in the middle of the recession. The businesses that are surviving these hard times are the ones who have emphasized trust and relationships in their platforms. Karen J. Barran of BtoB magazine wrote an article titled "Looking back: The top 5 mistakes of 2009." It is a well written article and I believe it acts as a foreshadowing to what we as business professionals are going to achieve in 2010. Instead of "mistakes" I am going to call them "gifts" in the spirit of the holidays.
Continue reading the article >>
---
At the Summit - An Interview with Alexis Siegle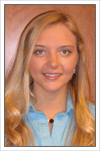 Swiftpage emarketing Position: Customer Service and Product Support Specialist
Your favorite thing about Swiftpage emarketing : I love creating templates and working in such a comfortable environment!
What do you do in your spare time: As much as I can, I love being active, outside, with family and having a great time.
If you could live anywhere, where would it be: Anywhere in Europe, or Seattle.
What's something you can't say no to: Sushi and Gelato (but not together!)
Biggest aspiration: To run for office one day. Learn more about Alexis >>