We are very pleased to announce that Swiftpage emarketing has been included in the newest release of ACT! – ACT! 2010 (Version 12). This means that when you purchase ACT! 2010, Swiftpage emarketing will be seen as a feature of ACT!, no longer an add-on. The name of the service will be called ACT! E-marketing.

Along with a number of new ACT! 2010 features including Social Media interfaces, opportunities tailoring, new dashboards and reports and more, ACT! E-marketing helps ACT! become a true marketing tool as many of you Swiftpage emarketing for ACT! users already know. Existing Swiftpage emarketing for ACT! users that upgrade to ACT! 2010 will simply enter in your existing Account information and everything will function as before.

We will continue to update everyone on the integration as ACT! 2010 is released – thank you for all your support.
Chirp Chirp
We are excited to say that we have a new focus on the Swiftpage emarketing blog. Due to popular demand of the monthly Thoughtspot articles, we've committed to provide the same caliber of installments on the blog in a much more frequent manner. From subject line testing strategy to using Facebook to build your list, the http://blog.swiftpage.com.

Swiftpage emarketing is on Twitter! Want quick updates on the happenings at Swiftpage emarketing as well as up to date info on the leading edge thoughts in the industry? Look no further. Follow Swiftpage emarketing on Twitter - @Swiftpage emarketing . We're listening and would love to hear from you – drop us a tweet @Swiftpage emarketing and we'll gladly join in on the conversation.


An Interview with David Steinmetz
Position: Tier 2 Support Specialist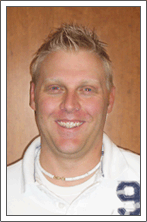 Favorite thing about Swiftpage emarketing :
Not the same thing everyday.
What do you do in your spare time:
Sports, movies, anything outdoors.
Dream car:
Audi A5
Ever broken a bone?
Five times: both collar bones, tail bone, finger (a few times), torn knee and shoulder ligaments. I'm a walking ER bill!
Learn more about David Steinmetz >>