Swiftpage emarketing News
We are pleased to announce a new version of the Swiftpage emarketing for SalesLogix Plug-in. We have partnered with Sage Software to bring SalesLogix users "Sage SalesLogix E-marketing", a new version of the plug-in that includes both a SalesLogix Windows and Web experience. The new version may be installed on SalesLogix versions 7.5.2.
> Learn more here
Our next Throught Leader Series interview series features NewsGator
> Sign up to attend
Follow
@Swiftpage emarketing
on Twitter
and be entered to win 1 month free of Swiftpage emarketing service. Three will win, drawing ends after 1000 followers are reached.
---
What's Buzzing
More Insight Into Gaining Leads - via MoreBusiness.com
Social Media Gains Leads
- via eMarketer
Get Found and Connect
- Marketing Profs

The Do's and Don'ts of
Email List Building
There are countless ways to grow an email list. Your email marketing ventures do not exist without a list – and a qualified list at that. Thankfully, there are numerous methods of gaining permission to begin a digital relationship with new prospective customers interested in your products and services. Here are 5 of the best... continue reading the article >>
---
At the Summit - An Interview with Mike Ogdon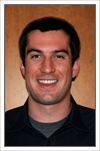 Swiftpage emarketing Position: Director for Business Development
Your favorite thing about Swiftpage emarketing : The fun, hardworking environment and all the great peoples.
What do you do in your spare time: Ski, fish, hunt, run and look at my wife and new Baby Trey. Also play with my brown dog and paint walls.
Who is your role model: Bob Ogdon
If you could live anywhere: Summit County
Dream Car: Subaru Legacy 2004, foam green.