Go On, Get Social: Where Should Your Business Have Presence?
Last week we gave you the WHY of getting your business involved in Social Media. This week we give you the WHERE. New Social Media sites seem to be springing up all the time. We've broken down some of the big players and newbies on the scene so you can make a decision about where to start with your business!
1. Facebook
Facebook reaches 750 million + people all across the world. Chances are, if your customers are on a social network, it's this one.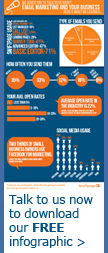 Talk to Us: Swiftpage emarketing Survey Series
Want to know how your peers are using email marketing? Download our nifty infographic all about email marketing and your business by completing this month's survey.
We want to know what you think about email design, how you use it, and what you like to see in your inbox. With only 10 questions, we're willing to bet you'll have it completed in under 5 minutes. Ready, set, go talk to us!