Top 10 Reasons Why We Love Small Businesses
In celebration of Small Business Week last month we created a list of the 10 reasons we love small businesses. If you haven't gotten a chance to view them yet, check out the list.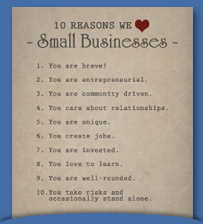 Download our FREE infographic all about your peers and lead generation by talking to us now!
This month we want to learn more about you and what makes you tick. The results will used to generate content tailored specifically to you, our customers!