Swiftpage Awarded Sage 2012 Endorsed/OEM Partner of the Year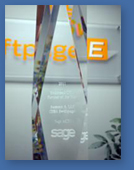 Swiftpage has been recognized as a development partner who has successfully delivered solutions that best fit customer and market needs, actively assisted the Sage channel in closing new sales, significantly aided with customer retention, and maintained a solid reputation for customer satisfaction. Thanks, Sage!
Talk to Us: Does your company currently do any event marketing?
Please click ONE of the below to share your answer with us:
Thanks for taking the time to talk to us. You will be directed to download our Event Marketing Guide after completing our brief survey.