Top 5 Dos and Don'ts for Your Best Holiday Marketing Yet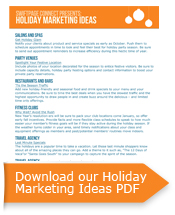 We all know holiday marketing is highly valuable, but it can be a daunting task. Online shoppers in the U.S. spent nearly $37.2 billion during the 2011 holiday season, up 15% from 2010 according to comScore. To get you in the holiday (marketing) spirit, and spark your creative drive for this year's strategy, we've compiled a list of 5 quick dos and don'ts.
Do: Set up a schedule for your emails and your goals - remember holiday gift purchasing starts as early as late October!
Don't: Forget about post-holiday sales; once the busy holiday season dies down, many of your contacts will be in prime position for purchase.
Do: Make sure your goals aren't all sales focused. You want to be able to easily evaluate the success of your campaign so consider open and click rates as possible indicators.