Shortcuts to Loving Your Basic Template
by Lindsey Weinig
Here are a few quick tips for building your template in the Swiftpage emarketing Basic Editor to wow your recipients.
I Pick You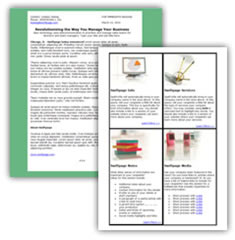 Selecting the right Basic template from the Global Library is the first step to success. The main design attributes to pay attention to when selecting your template are the background color shown behind the template and border shown around the template. These attributes cannot be changed within the Basic Editor and therefore you will need to decide what your preferences are before you begin editing. Be sure to select a template that reflects your background color and border preferences.
Love at First Sight
As long as your recipient views images in their incoming emails, your header will be their first image-impression of your email template. Make it count. Ensure your header image looks its best by sizing it correctly. It should be 600 pixels wide, 72 dpi quality, and we recommend that you don't make it too large (100-200 pixels high is ideal). You want your recipients to be able to see a glimpse of the content of your email as they preview your template.
Right Column + Left column = Love
Or, in the case of Basic Templates, right column + left column =580 pixels. You can alter the left column width in the Customization options and the right column will adjust to fill the rest of the 580 pixel area. It is important to take note of your column widths so you can maintain the quality of your images. Insert images that are at least a few pixels smaller than the desired column. For example, if your column width is 200 pixels, an image width of about 190 pixels would be ideal.
Picture Perfect
You can alter the width of your images inside the image options section of the Basic Editor. However, we do not recommend resizing your image from its original pixel size using this feature. Instead, ensure that it is represented at the accurate pixel size within your template. Your image will maintain a better quality if you use an image editing program outside of the editor to resize your image and then import them at the correct size for your template. If you do not have an image editing tool on your computer, such as Paint or Adobe Photoshop, you can use a free tool like Sumo Paint or Pic Resize (no affiliation to Swiftpage emarketing ).
Match Made in Heaven
A background color inside your template can add a little extra spice to your Basic Template, but it's very important not to go overboard with too many colors and overwhelm the recipient. Stick to lighter colors when using multiple colors or only use a background color in one area as an accent if you want to use a bolder or darker color option. If you need help determining the RGB code of your background color, and you do not have a program with a color identifier such as Adobe Photoshop, you can use a free tool like Instant Eyedropper (no affiliation to Swiftpage emarketing ) to help identify and recreate the background colors you want.
A Way with Words

Formatting your text in Word before pasting it into your template is a common practice. It's great to write your content in a separate program before creating your template so you can easily insert it and focus on the design and layout while actually building your template. When pasting from Microsoft Word, we recommend that you utilize the 'Paste from Word' button inside the Text Editing toolbar to avoid any not-HTML friendly formatting tags that Microsoft Word may leave inside your text.
Violets are Blue
And so are text links. It's a good practice to keep your links consistent so your recipients can easily identify where to click to learn more. The Basic Editor helps you do this by defaulting linked text as blue and underlined. This is universal text link identification. You can change the color of your links using the Text Options, but be sure to make them identifiable some other way so they don't blend in with the rest of the text in your email.
Finally, you will have the greatest success using the Basic Editor (and loving your Basic Template) if you understand its features as well as limitations. We offer an informative live demonstration on Getting Started with Swiftpage emarketing that covers many features of the Basic Template Editor. We also have a wide range of on demand customer support materials in our Support library. Now login to your Swiftpage emarketing account and get started creating your Basic Template!