Event Marketing with Swiftpage emarketing
by Audrey Howes
Whether you are hosting an onsite event, presenting an online webinar or throwing an all company shindig, Swiftpage emarketing can easily be used to effectively promote your event, turning invitees into attendees. Put your business ahead of the competition by using Swiftpage emarketing to create a complete promotional plan for your event. Login to your Swiftpage emarketing account and set up your event marketing now by following these steps!
Start with a Survey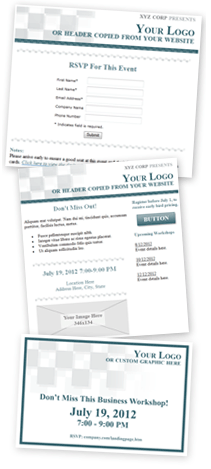 Using the Swiftpage emarketing survey tool you are able to create a custom form to collect responses for your event. You choose the data you would like the form to collect. Plus you can create an email autoresponder, link the survey to a unique landing page, and even feed responses back into your database.
Make an Event Landing Page
The Swiftpage emarketing landing page function allows you to take any email template and create a mini-website. Simply customize your template with all of the event details, links, and other event information then launch it as a landing page. Your event landing page has a unique URL and won't be removed from Swiftpage emarketing servers until you take it down.
Send Invitations
Use our template editor to create stunning event invitations. Link your invitations to your survey for absolute ease in collecting responses to your event. Check your reports to see how many invitees opened your email, clicked on links, and to track other useful data.
Send Reminders
Modify your event template to create event reminders. Send reminders out to invitees who haven't responded to your initial invitation. Consider sending a postcard via Direct Mail to invitees who have not opened your email. You can also create reminders to send to invitees who have responded to remind them when your event will take place.
Easy Follow-up
After your event takes place, send an email using Swiftpage emarketing to thank your attendees for coming. Use the Survey Tool to create a feedback survey to gain insight into your attendees experience at your event. You could even add attendees to a Drip Marketing campaign to keep them up to date on future events, product releases, and other announcements.
Event marketing possibilities are endless when you use all of the tools Swiftpage emarketing has to offer!
Need a jump start? Check out the Event Packages Bright Peak has to offer starting at $250!