Swiftpage emarketing Connect Social Sharing
Broadcast your email further by sharing it on Facebook, Twitter and LinkedIn through Swiftpage emarketing Social Sharing. Add the Social Sharing footer icons to all of your emails and watch your message spread!
These new features are currently only available to Swiftpage emarketing Connect users, but we're working to provide them to our integrations very soon. Have you tried them yet? Let us know what you think on our Facebook page!
---
How-To Do It ALL
Using Swiftpage emarketing is easier than ever before! Simply watch these short and informative How-To Videos to learn how to do more with Swiftpage emarketing Connect. Can't find what you want to learn? Leave a comment and tell us what to show you next!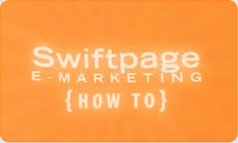 ---
Swiftpage emarketing Event Marketing
We've always offered you these powerful features, but now we've outlined exactly how you can harness them to promote and manage your event successfully. Check out Event Marketing with Swiftpage emarketing >

Pumpkins, ghosts and goblins, oh my! At Swiftpage emarketing we thought we'd have a little fun this Halloween and decorate our cubicles. Take a look at some of our handy work!
---
And now for…A Swiftpage emarketing Halloween Poem highlighting our staff's favorite Halloween treats. Enjoy!
Please don't SNICKERS at our staff, we think Halloween is for treats not TWIX and CANDY APPLES on sturdy sticks. Be careful with those BUTTERFINGERS, dropping THOSE LITTLE ORANGE PUMPKINS can lead to terrors. While trick or treating be sure to look for the houses who hand out CASH. Hide it well so it doesn't get took. If someone tries to take your candy, shout "NACHO CHEESE!" then run away as fast as you can, pelting DOTS as you please. For the house that gives CADBURY EGGS, you've gotta know those are old. Avoid them since they might have mold. If you're faster than the REESES car, your trick or treating might take you far. When you are tired TAKE FIVE and eat some CANDY CORN to stay alive. As the night winds down and you plot your feast, we suggest you avoid the BLACK LICORICE. Opt instead for some CARMEL CORN, trust us you'll be happier come morn. Now raise your BUTTERSCOTCH in celebration. We wish you Happy Halloween with much jubilation!
---
Last Month's Thoughtspot Winner
Last month we asked you to take the quick survey about your Social Media usage to be entered to win a FREE Branded Template from Bright Peak, a $50.00 value! We're pleased to congratulate Gaelan de Wolf! Our Bright Peak Manager will be in touch with you to get your template started!