Sign up for Swiftpage emarketing E-newsletters
Sign up to become part of our Email Marketing Community. We share resources to help you stay informed and grow your business. Our company strives to provide you with the latest news about company updates, upcoming projects, industry trends, tips and tricks, and recent promotions.
What you will be receiving: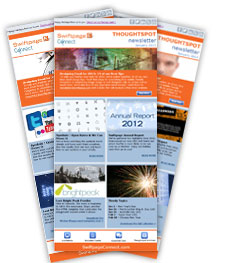 Swiftpage emarketing Thoughtspot Newsletter
We've always got our eyes on a blog or are digging through stats to stay up to date on email and marketing trends. The Thoughtspot Newsletter delivers the latest and most important information to you near the end of every month. Each Thoughtspot features:
Expert Article: Each month includes a new article with most current trends in digital marketing, ideas specific to small businesses and tips to help you improve your business and marketing.

Featured Resource: We regularly develop new resources such as infographics, whitepapers and guides to enable you to take ideas from concept to action. One of these resources is included in the Thoughtspot each month.

Best from the Blog: We post on the blog every day, but know most of you are too busy to keep up. Each month we bring you one of our best posts in the Thoughtspot.

Bright Peak: Our Creative Services team provides design tips, free templates and specials in their section.

Timely Topics: Knowing when to send is a crucial piece of email marketing. We give you a heads up with important dates for the next month so you can be sure to schedule your emails at the right times.
We look forward to delivering our best thoughts to you!
View the Thoughtspot Archives >

By signing up, we'll make sure that you don't miss out on the monthly webinars where Swiftpage emarketing interviews the top industry experts on social media, news topics, technology and much more.
Past interviewees include Mari Smith, Relationship Marketing Specialist; Brian Clark, founder of Copyblogger; and Tim Berry of Palo Alto Software. > Learn more about Thought Leader Series

Open up a whole new world of automation with the tried and true practices of our expert Drip Marketing Certified Consultants. Swiftpage emarketing 's DMCCs know what really works in the real world, as it is their job to successfully build and apply high-performing Drip Marketing campaigns for their customers.
With this webinar series happening once a month, we will make sure that you are notified on what, when, and how to sign up. > Learn more about the Drip Marketing Webinar Series